In addition to the standard enchants available in vanilla Minecraft, ManaCube offers a variety of custom enchants to enhance your gameplay. Factions offers 5 default custom enchantment slots but can be upgraded to 10 with the addition of Enchantment Scrolls. Further details below.
Custom enchantments may be bought from the Enchanter via /ce at the cost of vanilla XP levels. Custom enchantments can be bought in increments of 1, 5 or 10 with a price that varies depending on the desired enchantment tier.

Common books can be bought at the price of 5,000 XP, Rare at 25,000 XP, and Legendary at 100,000 XP. Upon buying a book, you will need to right-click it to reveal a random enchant in the tier level you have bought. You may read about any specific custom enchantment by doing /enchant [name].
While opening any level of Custom Enchant books, a Mythical Enchant book may be given. The odds for this are very low, but Mythical books yield the best effects. Mythical books cannot be bought for EXP.
A list of all available custom enchants can be found below.
Sword
Axe
Bow
Trident
Armor
Tools
Fishing Rods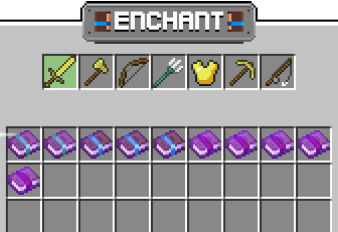 The codex is a tool that sorts custom enchantments by what they're applicable to. You can type /codex into chat to display the codex. Custom enchants are sorted by their tier level and relay relevant information that can be found in the custom enchantment list above.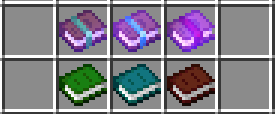 Custom enchantment books are color-coded based on their rarity with displaying a green stripe across the book, Rare Enchants displaying a blue stripe across the book and Legendary Enchants displaying a red stripe across the book.


¶ Success and Shatter Rates
Each Custom Enchant book has a random Success and Shatter rate. These are the chances of the Enchant either applying to the tool/armor piece, or shattering the tool/armor piece. If the Custom Enchant fails on an item, the book is lost and the item shatters.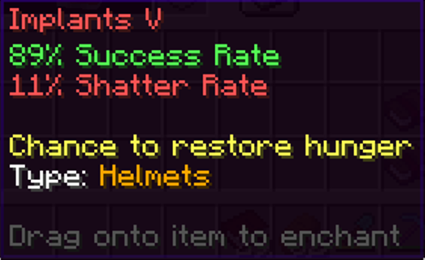 If an item Shatters, all custom enchants on the item will be disabled (not removed), and the item has to be repaired through the Forge.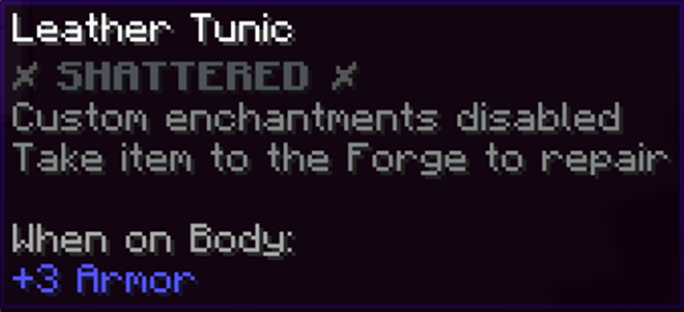 Magic Success Dust can be drug and dropped onto a Custom Enchant book to increase the Success rate by the percentage of the Dust. These can be obtained from the Monster drops, cubits shop, and trading for them in /tinkerer. Magic Success Dust percentages can be anywhere from 1% to 100%.

Protection scrolls prevent an item from being shattered due to a failed Enchantment. However, the book is destroyed. Protection scrolls can be obtained in /kilton to be bought with souls.

All items have 5 open enchantment slots by default (Vanilla enchants are not a part of this). You can upgrade your item to hold up to 10 enchantments by applying enchantment scrolls to them. These scrolls can be obtained from Monster drops, Kilton, and from other players.

A scroll which will randomly remove a Custom Enchantment from the tool or weapon it is applied onto. The removed custom enchant will be reverted back into book form with a 100% success rate. Simply drag and drop the Black Scroll onto the desired tool or weapon to have a random custom enchant removed. Black Scrolls can be obtained from Monster drops and Kilton.
The Alchemist is like an anvil for Custom Enchants and Magic Success Dust. To access the Alchemist you can use the command /alchemist. Once open, the GUI allows you to place 2 Custom Enchantment books of the same type and level to create a new book, but the new book will be 1 level higher.
The same applies to Success Dust, if you are trying to combine a 12% and 33% dust, you will get a 45% dust in return. However, using the Alchemist does require vanilla XP to complete and can be checked by simply hovering over the red glass in the GUI.

The Tinkerer allows you to trade Custom Enchantment books for Secret Dust. The tinkerer can be accessed by doing /tinkerer.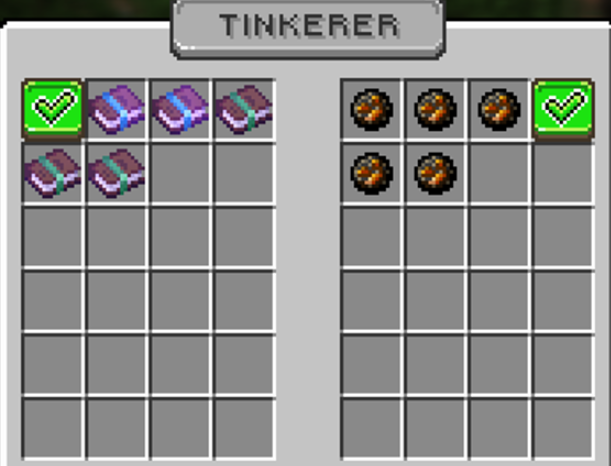 There are three different levels of Secret Dust depending on the rarity of the books exchanged. The tiers of Secret Dust are Legendary, Rare, and Common. Legendary Magic Dust has the highest chance of becoming a high percentage Magic Success Dust, while Common Legendary Dust has the lowest.

Mystery Dust is a failed product of right clicking the Secret Dust, and is just gunpowder that cannot be used