Duels are a feature on KitPvP, Factions, Skyblock, and Survival that enable a player to challenge another to a 1v1 duel in a private arena. When challenging a player to a fight, you are able to choose the kit, map and stake money. If the player accepts, you will both be teleported to the private map, equipped with the chosen kit and a countdown will begin. Upon finishing a duel, you will be returned back to where you were and your inventory will be as it was before the duel. Duels to not affect your statistics or killstreaks.


¶ Commands
/duel - Displays the list of commands
/duel [player] [stake] - Opens up the menu to select kit, map and stake and sends a duel request to player
/duel [accept/deny] [player] - To accept or deny a duel request. You may also click on the menu that appears in your chat when you are sent a request.
/duel stats - To display your duel stats
/duel toggle - Enable or disable receiving duel requests
/duel top [wins/losses] - Displays top wins, losses, or rating for the kit.
Type /duel [player] [stake]
If you do not specify a stake, the duel will not have one.
Select a kit from the menu
The Confirmation Screen Appears. Here you can change the kit or map. If you do not change the map, it will select a random one. You may also enable betting items here.
When ready, click the green glass to SEND REQUEST.
If you wish to cancel the duel, click out of the menu or click the red glass to CANCEL.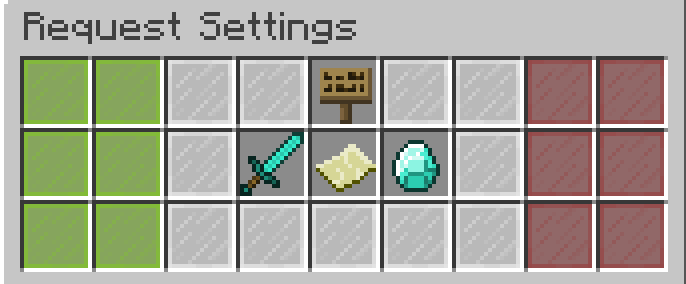 /duel stats will display your duel stats. As shown below it lists your Wins, Losses, Wins to Losses Ratio and if your duel requests are enabled or disabled. Below this it will list your ratings for each of the kits.
Ratings will give an overview of how well you have performed in each kit. Everyone begins on 1400 and with every fight your rating will go up or down. If you lose a duel, your rating will go down and if you win, it will go up. The amount that is taken or added depends on the rating of who you are fighting. If they have a higher rating than you, you will gain more rating from beating them. This system ensures that you are rewarded fairly for the level of challenge.
For example, if you have 1400 and the player you are fighting has 1700, you will gain more from winning this fight than against someone with 1400.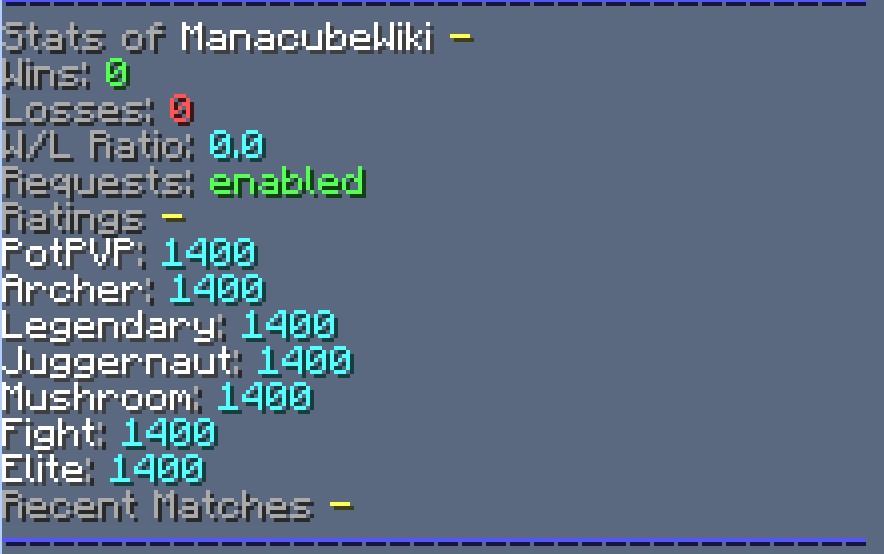 Overall, the higher above 1400 you are, the better you are in that kit. If your rating is below 1400, it most likely means you have lost more than you have won.
There are several kits to choose from in duels with a few exclusive kits, PotPvP, Archer and Mushroom [KitPvP only].
Below is a list of the kits and what they contain.


PotPvP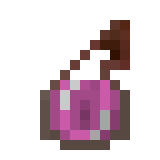 Archer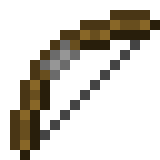 Legendary

Juggernaut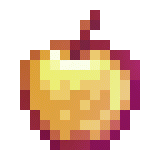 Mushroom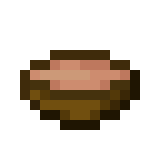 Fight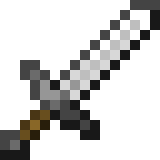 Elite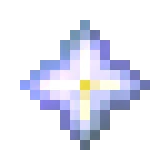 SUMO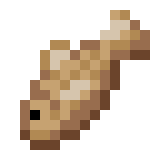 SUMOKnockback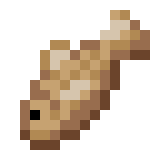 Diamond Sword - Sharpness 3, Unbreaking 3
Diamond Armor - Protection 3, Unbreaking 3
4x Enderpearls
30x Splash Instant Health II Potions
4x Swiftness 2 Potions (1:30 Min)
Leather Armor - Protection 1
Bow - Power 1, Punch 2, Infinity 1
1x Arrow
3x Golden Apples
2x Ender pearls
2x Splash Instant Health 2 Potions
1x Swiftness Potion 1 (3:00 Min)
Diamond Helmet - Protection 1, Fire Protection 1, Projectile Protection 1
Diamond Chestplate/Leggings/Boots - Protection 1, Fire Protection 1, Unbreaking 1, Projectile Protection 1
Diamond Sword - Sharpness 2
Bow - Power 2, Flame 2, Punch 2, Infinity
1x Arrow
1x Fishing Rod
2x Golden Apple
2x Ender Pearl
1x Splash Swiftness 1 Potion (2:15 Min)
1x Splash Instant Health I Potion
1x Splash Regeneration I Potion (0:33 Seconds)
Iron Armor - Protection 3, Unbreaking 1, Projectile Protection 1
Stone Sword - Sharpness 1
1x Splash Instant Health I Potion
1x Splash Regeneration I Potion (0:33 Seconds)
1x Golden Apple
Iron Armor - Protection 2
Stone Sword - Sharpness 1
x35 Mushroom Stew
Chain Helmet - Unbreaking 1
Iron Chestplate/Leggings - Unbreaking 1
Chain Boots - Protection 1, Unbreaking 3
Iron Sword - Unbreaking 1
Bow - Unbreaking 1
16x Arrows
Iron Helmet - Protection 4, Unbreaking 1
Iron Chestplate/Leggings - Protection 3, Unbreaking 1
Iron Boots - Protection 4, Fire Protection 1, Unbreaking 1
Diamond Sword - Sharpness 1, Fire Aspect 1
Bow - Power 2, Punch 1, Infinity, Flame
1x Arrow
2x Golden Apple
1x Ender Pearl
1x Splash Swiftness 1 Potion (2:15 Min)
1x Splash Instant Health I Potion
PotPvP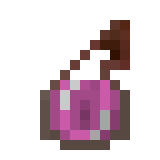 Archer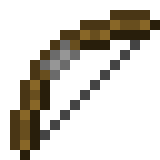 Legendary

Juggernaut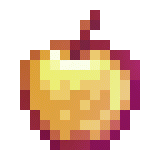 Fight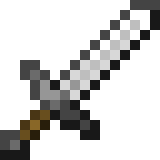 Elite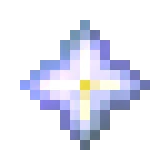 SUMO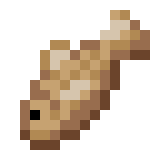 Diamond Sword - Sharpness 2, Unbreaking 2
Diamond Armor - Protection 2, Unbreaking 2
16x Enderpearls
31x Splash Instant Health II Potions
1x Swiftness 1 Potion (8:00 Min)
2x Swiftness 2 Potion (1:30 Min)
Leather Armor - Protection 1
Bow - Power 1, Punch 2, Infinity 1
1x Arrow
3x Golden Apples
2x Ender pearls
2x Splash Instant Health 2 Potions
1x Swiftness Potion 1 (3:00 Min)
Diamond Helmet - Protection 1, Fire Protection 1, Projectile Protection 1
Diamond Chestplate/Leggings/Boots - Protection 1, Fire Protection 1, Unbreaking 1, Projectile Protection 1
Diamond Sword - Sharpness 2
Bow - Power 2, Flame 2, Punch 2, Infinity
1x Arrow
1x Fishing Rod
2x Golden Apple
2x Ender Pearl
1x Splash Swiftness 1 Potion (3:00 Min)
1x Splash Instant Health I Potion
1x Splash Regeneration I Potion (0:45 Seconds)
Iron Armor - Protection 3, Unbreaking 1, Projectile Protection 1
Stone Sword - Sharpness 1
1x Splash Instant Health I Potion
1x Splash Regeneration I Potion (0:45 Seconds)
1x Golden Apple
Chain Helmet - Unbreaking 1
Iron Chestplate/Leggings - Unbreaking 1
Chain Boots - Protection 1, Unbreaking 3
Iron Sword - Unbreaking 1
Bow - Unbreaking 1
16x Arrows
Diamond Armor - Protection 4, Unbreaking 4
Diamond Sword - Sharpness 4, Unbreaking 4
PotPvP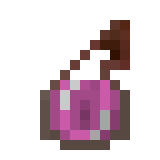 Archer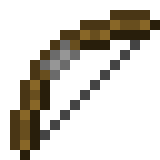 Legendary

Juggernaut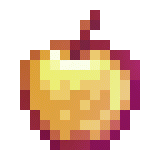 Fight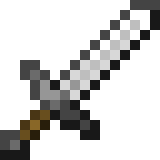 Elite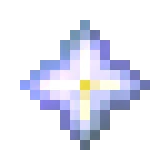 Iron Armor - Protection 4
Iron Sword - Sharpness 2
33x Splash Instant Health 2 Potions
2x Swiftness 2 Potions (1:30 Min)
Chain Armor - Protection 1
Bow - Power 2, Infinity
1x Arrow
Diamond Armor - Protection 4
Diamond Sword - Sharpness 4, Fire Aspect 2
Bow - Power 3
48x Arrows
6x Enderpearls
5x Golden Apples
4x Splash Instant Health 2 Potion
1x Swiftness Potion 2 (1:30 Min)
Iron Armor - Projectile Protection 1, Protection 3, Unbreaking 1
Stone Sword - Sharpness 1
1x Golden Apple
Iron Armor - Protection 2
Diamond Sword - Sharpness 1
Bow - Power 1
2x Enderpearls
1x Golden Apple
20x Arrows
Diamond Armor - Protection 4, Unbreaking 4
Diamond Sword - Sharpness 4, Unbreaking 2
6x Golden Apple
3x Enderpearls
PotPvP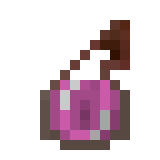 Archer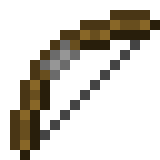 Legendary

Juggernaut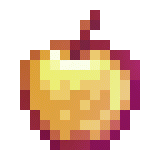 Fight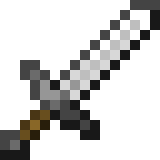 Elite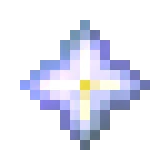 Iron Armor - Protection 1
Iron Sword - Sharpness 2
33x Splash Instant Health 2 Potions
2x Swiftness 2 Potions (1:30 Min)
Chain Armor - Protection 1
Bow - Power 2, Infinity
1x Arrow
Diamond Armor - Protection 3
Diamond Sword - Sharpness 5, Fire Aspect 2
Bow - Power 3
48x Arrows
6x Enderpearls
5x Golden Apples
4x Splash Instant Health 2 Potion
1x Swiftness Potion 2 (1:30 Min)
Iron Armor - Projectile Protection 1, Protection 3, Unbreaking 1
Stone Sword - Sharpness 1
1x Golden Apple
1x Splash Instant Health 2 Potion
1x Swiftness Potion 2 (1:30 Min)
Iron Armor - Protection 2
Diamond Sword - Sharpness 1
Bow - Power 1
2x Enderpearls
1x Golden Apple
20x Arrows
Diamond Armor - Protection 3, Unbreaking 4
Diamond Sword - Sharpness 5, Unbreaking 2
6x Golden Apple
3x Enderpearls