The most basic of rules for using Discord is in the #information channel. In general, Discord rules are the same as in-game chat rules.
Rules apply to Voice Calls and may result in a ban rather than a mute.
To join our discord you can type /discord in any of the game modes on the network or with this link https://discord.gg/manacube.
After joining our Discord, you may notice that you only have access to 3 text channels; to gain access to the rest of the server, you will need to sync your Minecraft account to your Discord account.
Type /discord in-game while in /hub (play.manacube.net)
Copy the sync code you are given [Ex. 1a2b3c4d]
On Discord, in the #sync-verification channel, type !sync [code]
Your roles will be updated shortly, if not, ask for help in the #sync-help channel or contact a Staff Member.
Immediately after syncing, you will receive access to the rest of the ManaCube Discord. This means you are now able to view official server announcements, chat with other players and contact server staff outside of game. Assuming you have synced your forums and discord account, you are now able to claim Daily Rewards in-game through /cow. The rewards progressively increase in value if claimed every day.
If desired, you may unsync your Discord and Minecraft account at any point in time by performing the command !unsync in ManaCube's Discord server. You must be offline from ManaCube's Minecraft server to successfully unsync your accounts.
ManaCube's Discord server comprises of 6 main categories accessible to everyone:
Official - All official server announcements, events, updates, etc. are posted here
Main - Used for general discussion purposes; also includes #memes, #patron and #bot channel
Patron Forum - Used for suggestions and feedback from players with the patron rank
Help - Used for any questions/concerns or issues that need attention, staff regularly check these channels to assist players
Realms - Contains a text channel for every gamemode on ManaCube, useful for chatting with players about a specific gamemode
On the discord there are multiple voice channels for players to join.
Voice Channels - Contains different lounge channels.
Private Voice Channels - Voice channels for players who prefer some privacy; after a certain amount of people join, the channel will prevent others from joining freely.
Players can now make their own temporary voice channels. Join "Create Voice Channel" to automatically make one. If the channel is empty it will be deleted.
The channel owner can also kick people, and manage the channel with these commands:
/voice-ban <user>
/voice-unban <user>
/voice-kick <user>
/voice-limit <amount>
/voice-lock
/voice-unlock
/voice-rename <name>
¶ Following and Browsing Channels
When you click on a channel with a megaphone present, a follow button will be next to the channel name. This allows you to have all posts from those channels forwarded to your own server so you don't miss a thing.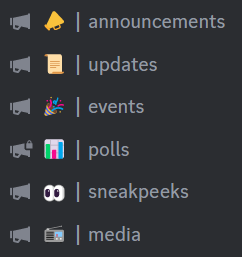 To unfollow a channel, simply go to your server settings and find integrations located under apps. Click on the desired channel you wish to unfollow and there should be an unfollow button.
The browsing channel allows you to edit what channels you see, view when a channel was last active and follow or unfollow categories. If a channel is ticked, it will be listed under the designated channel category,
If a channel isn't ticked, you may see a blue + Add to Channel List button when you view the channel. If you desire to add the channel to your list, you can simply click on that button or tick the box in the browsing channel.

There are a variety of roles available to players such as Donator Ranks, Level Based Roles, Content Creators, and other Special Roles.
Players that donate to the server also receive their donor rank on Discord. Donator Ranks include VIP, VIP+, MVP, MVP+ , and Elite.
Additionally, the Patron rank is given in appreciation to those who have purchased $1,000 USD or more to ManaCube. The Patron+ rank is given as special thanks to those who have contributed $2,000 USD or more to the server. Patron+ may request a custom color by asking an admin or creating a support ticket.
In addition, the person who has donated the most to the server is awarded the 💎Top Donator 💎 Rank.


The most active members of the community can earn XP to increase their Discord Level on the server. 15-25 XP is given at random every minute that you're messaging. XP is limited to avoid those who spam. The roles below are given at the levels indicated.
Active at Level 10
Well-Known at Level 25
Popular at Level 50
TIP: To check your level, go to the #bot and type !rank

Players who create content featuring ManaCube may apply for Content Creator ranks in-game on Discord and on our Forums. Creators may choose from the YouTuber, Twitch or Creator role.


Players may also get roles for carrying out specific activities.


Players with Discord Nitro may receive the Nitro Booster Role by boosting the server


Players that like us on NameMC may get the ❤ role. This can be done by:
Sync you discord account with your minecraft account
Like us on NameMC
Type !namemc in the #bot channel


All staff are responsible for moderating the Discord. They will all have the Discord Mod role.
Each staff member will also have a role corresponding to their in-game staff rank: Helper, Mod, Mod+, Senior Mod, Manager, Admin, and Owner.
In addition, each staff member is given roles based on the server they staff. These roles are:
KitPvP Staff, Parkour Staff, Skyblock Staff, Creative Staff, Olympus Staff, Earth Staff, Survival Staff, Islands Staff, and Factions Staff.
Developers will have the Developer role. They are not responsible for moderating the Discord and will not have the Discord Mod role, but create custom plugins to bring new in-game features to the players. Artist will have the Artist role and will not have the Discord Mod role as well.